I got really lucky with my apartment up here. There is a huge housing shortage (rich developers, hi if you're reading this, there is a huge housing market up here). There are a ton of jobs here, it is kind of the "last town" before the real north and this is where people come to access healthcare, the train station, where Ornge flies out of, etc. There are a lot of (mostly young) professionals who come up here, and there are more jobs than there are people able to move up here because there is just no where to rent. When I walk down the street about 1/4 of the houses are boarded up. All of that is to say is that it is really competitive to get somewhere to live up here. And my apartment is actually nice, which I don't think is necessarily a problem up here, but given that I had never signed a lease sight unseen I was nervous. It also is significantly bigger than I was expecting from the photos. Which is fantastic, it just means that my stuff looks very small in it, and I've been wanting to buy a couch/sofa for about 2 years now and haven't done it yet, and I am really wanting one after so much time at my parents' house who have a variety of seating options and now I just have one chair.
And one chair is fine, and if I was a true minimalist I probably wouldn't need or want anything else. But I can tell that I will be more comfortable and have a more enjoyable home if I have a couch. I have also been thinking about buying a couch since September 2019, which was the first time I didn't have roommates (not the first year I didn't have a couch, but in the other places my roommates were so destructive that I would have never even imagined investing in furniture. Also, the pandemic has really shown me (and I think everyone) that it is super important that we are comfortable and content in our homes.
The Essential Wants
A couch, see above. I think I have narrowed it down to these two options. The one on the left is the Article Sven Loveseat in Velvet in Pacific Blue and the one on the right is the Ikea Morabo in Golden Brown/Wood. I also want to check out the furniture store in Dryden and see what is there. I really like the Ikea one for a few reason. It seems more classic, like the colour will never go out of style and I have actually seen it in person and sat on it. The leather feels really nice and it was comfy. It's also a bit longer than the Article sofa, but will still fit in the space. I'm a little worried it's the exact same colour as the floor. The Article one is just stunning. I adore the colour, I love that it comes with the two side pillows so you don't need as much to soften the square arm rests if you want to lie down. I also like that it is one cushion so you can squeeze a third person on it, no body likes to sit on the cushion crack.
There are also a few other things that I want for this apartment specifically, but have been thinking about for a while. So one is a dresser/chest of drawers. In my old place, my landlord's sister had lived there before me. She had left a bunch of stuff behind, including a really nice dresser and I used it for the whole time I lived there. It was my clothes dresser and then my dresser was where I kept my board games, towels, sheets etc. and is my TV stand. Now because I don't have the "bedroom" dresser my pyjamas, underwear, sweaters, activewear, and "old clothes" (that's what we call the clothes that are too worn to be worn out in public but are still good so they became farm clothes – I may not live on a farm anymore, but old clothes are still useful, and how I've avoided the sweatsuit and tie dye trends) are all in there and now I'm really struggling to figure out where to put my work out equipment, board games, towels, and spare sheet set. So I would really like to have a "bedroom dresser" again.
I really love this Ikea hack that Drew did. The Ikea Canada website does not even have the 6 drawer Tarva dresser listed at all, so I'm going to wait a bit and see if it is just a stock issue or if it isn't available in Canada anymore (?). It's still available in the USA and other Tarva products are still available so I'm assuming it's a stock issue.
It looks like one of the Serena and Lilly dressers that I would really like, but just cannot justify spending like 10% of my salary on.
So the next thing I really want is a bar cart. Is this basic? Yes. Have I wanted one for literally years? Also yes. I want one so badly. It could be a bar cart or a bar cabinet. I just never know what to do with alcohol, I have either stored it on a random storage shelf or in my bedroom closet or even just out on my desk (how college). And now I want somewhere to put it. And I want to be able to have proper glassware without it taking up a ton of space in my kitchen cabinets, because that is always precious space.
The downside I see to a bar cart is that it doesn't actually store that much, and it's all out in the open. That's why I'm kind of wondering about a cabinet. Then it doesn't have to be super curated and designed and you don't feel like you have to have ~aesthetic~ and expensive alcohols and liquors.
And this could potentially be combined with my next want. I would really like a sideboard/buffet/credenza, honestly I don't know the difference and I don't know if I care? I just don't really want something that is super mid-century modern looking and that really seems to be all that there is. I had seen a gorgeous one online last week, but it was going to cost just as much as the sideboard to get it up here and when I went to look for it on Tuesday to send a picture of it to my mom it was gone, so it wasn't meant to be.
Also this is less for me but still for me. I got rid of my old cat tree when I left Oakville because it was ugly, huge, and disgusting. But Montana really likes to look out the window and I want him to have somewhere to sit that lets him do that, and provides some enrichment for him because he's not much of a toy cat. And I think cat trees have come a really long way since the last time I was looking for one, they seem to be much chicer and easier to clean now.
I'm having a hard time justifying the cost of this cat tree, but it is the chicest cat tree I've ever seen and it seems like it will be easy to clean, which was my least favourite thing of the felt or carpet covered one that I had.
The other things are small things, and some of them I already bought last week at Canadian Tire. There are a few things that seem to have disappeared. My sheet pan, muffin tin, and mini muffin tin just poof, gone. So last week at Canadian Tire I got a sheet pan, muffin tin, and two round cake tins. I also probably spent close to $50 on command hanging strips and I still need a few more!
The Justified Wants
I also am desperately missing my mom's Nespresso machine. I know they aren't very eco-friendly and I'm open to normal espresso machine, but they are typically a lot more expensive and less easy-to-use than a Nespresso machine. I've also had Keurig coffee and my mom had a Tassimo years ago and none of us liked it. I l like that you can use your milk of choice in the frother rather than having pods of milk like the Tassimo did. I also like that it has a recycling program for the pods and you can buy a reusable pod and fill it with your own coffee.
An air mattress. I want to be able to have friends up here, and that is going to be challenging just off how far I am from all my friends, I don't even know anyone in Thunder Bay or Winnipeg and those are the two biggest cities. I'm actually closer to my friend who moved to Calgary last year for a job than I am to Toronto/Ottawa where most of my friends are. Although I am starting to notice the scattering, people who came to Ontario for school when they were 18 or 22 are now moving back home or people are heading west (almost exclusively, I don't know anyone NOT from the Atlantic provinces moving to the Atlantic provinces, and the only people I know settling in Quebec are Quebeckers). But I don't want to set up a full second bedroom, with a full second bed and stuff. I will eventually if I decide to stay here for years, but right now no. So I want a queen air mattress.
My entire apartment is laminate flooring, which is great with a cat, super easy to clean, but it can be kind of cold and I'd like to make it look like there is some separation between the kitchen and the living room. Also I just have a super basic metal bedframe that's on casters, so it can move around sometimes, even just getting in and out of bed and I noticed that it scratched the wood floors at my old place. That apartment was super old and beat up so while it bothered me it wasn't the end of the world. Here the floors look perfect and I don't want to ruin them. So TL;DR, I want some rugs. I'm currently using the rug that I had on the roof at my old place under my desk to muffle the sound of my rolling chair for my downstairs neighbour. It's the only rug I've ever owned so I need one for my living room and for under my bed. Montana is an old man, and he has a lot of hair balls, and they stain if I don't get to them right away and he frequently does it in the middle of the night so I frequently don't get to them right away. So it has to hide stains really well. I also don't really know what my style is and rugs are expensive, so this one will probably wait a bit.
A bed skirt. This is connected to what I said above about having a really basic, boring bed frame. The other issues is that my box spring is really beat up. I have no clue what happened to it but one end of it is basically shredded. So that end is obviously up against the wall, but the other end doesn't look great either. So I want to cover it up. My bed was given to me by my parents when they downsized and we've had it since 2006, so I think I'm going to dispose of it when I move out of this apartment and I hate moving box springs. SO I think I want my next bed to be on a bed frame with slats and just eliminate the box spring all together. But for now I want to cover it all up. Hide the mess, just like always lol.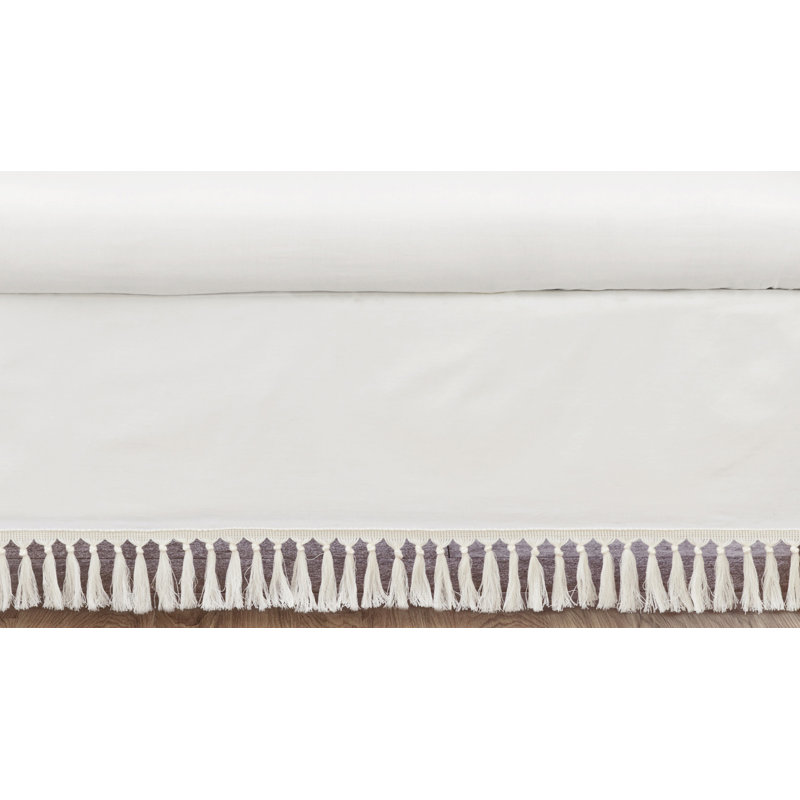 I sold my Jysk bookcase when I left my place in Oakville, I had overgrown it and I still had/have books at my parent's place and am ready to not have stuff at my parent's place. So I want something bigger and I want to have something that is real wood. There's nothing wrong with Ikea-style furniture. I have a lot of it, I just want things that are going to last and be durable and then either be able to be handed down, sold, or compost when I'm done with them. I have some like utility shelves that I'm currently using. So this is not a rush at all.
That's the other thing. I have this random Wal-Mart side table for a bedside table, but I'd love to have one with drawers and maybe a bottom shelf? And I'd love to have matching ones for either side of the bed, but it's pretty tight to the wall on the other side of the bed because the shape of my bedroom here is weird to make room for the laundry (I'm definitely not complaining there, I am absolutely obsessed with having in-unit laundry, but I don't know if it's worth the investment at the moment. Also, I keep thinking about what if I move to a city after this and can't afford something as big and my bed has to be up against a wall again, then I won't need a second night stand after all.
Random Kitchen Things
Kitchen aid stand mixer. I nearly threw my hand mixer out the window on Sunday night I was getting so frustrated with it. It's just a cheap one and it says it goes from 0-5, but 1 is so fast, it makes such a huge mess. It does make me feel better that I'm not actually that messy a baker but I am so fed up with like a quarter of my ingredients being flung out of the bowl by my mixer. First I think a new hand mixer, my mom also has a Kitchen Aid one of those and I used it while I was home and it didn't make such a mess, but again low priority.
and cocktail kit. Sioux Lookout isn't exactly a town with a cocktail bar, and I think there is something slightly impressive about being able to whip up a handful of cocktails beyond a whisky ginger or a mimosa. I know there are cheap ways to make a shaker with a mason jar and stuff, but I like pretty things.
Thinking about all of this stuff has me slightly conflicted. Like I do I really need all of this stuff, do I want to move all of this stuff, can I afford all of this stuff, why do I feel like I need all this stuff?? And some of it is definitely wants not needs. Where and how we strike that balance I don't know yet. But I'm really excited to slowly try and thrift a lot of these items from Kijiji, Facebook marketplace and find any antique markets or stores that may be up here. So far FB Marketplace n this area is a dud, but once I can go further afield the Manitoba side seems to be excellent.
If you have opinions on Article sofas versus Ikea I would love to hear them!
Laura