I don't know if other people have already had this feeling this year, I feel like I am finally emerging from the pandemic. Trust me, I know it's not actually over, my entire professional life is dominated by it (although I did have a few hours break this week to make an info sheet on blastomycosis and it was such a thrill!). But I'm making plans, I'm making friends, I feel like I'm ready to re-enter the world more fully, we are starting to plan the kids' version of Operation Remote Immunity and even as other places reintroduce lockdowns and more public health measures it does feel more like I can see the light at the end of the tunnel.
Instagram Favourite: Carly Riordan // @carly
It's been a while since I've had a true Instagram favourite. I haven't been finding anyone new who I really enjoy in a while. So I think until I do I'm going to highlight my tried and true favourites, and I have to start that with Carly Riordan (nee Heitlinger, formerly the Prepster). She was probably the first influencer I followed on Instagram, before influencer was even a word. I also really like how she is currently balancing her mom content with her previous content. I have to admit that every time an influencer I follow gets pregnant I worry if I'm going to lose her, that their content might become so unrelatable to me that it's just not worth my time. So far, so good with Carly, which I'm really excited about. She also has a book coming out soon called Business Minded that might just be the first business and mental health I ever buy.
Podcast Favourite: You're Wrong About: True Crime
You're Wrong About is still finding it's footing after it's co-host Mike Wernke left for other opportunities. Sarah is doing a great job with her first few solo episodes, but there is something missing still. However, I really enjoyed this episode and it really did have me questioning my interest in true crime and whether "being vigilant" and "getting informed" is actually doing anything to help anyone.
TV/Movie Favourite: Winter House
I am still struggling somewhat with the idea of how old the men are on this show and how hard they are partying. I get letting loose every once in a while, but "sending it" every weekend or for 17 days straight at 40? Pissing off the side of a ski hill because you're drunk, at 40? I don't know. I just don't know. But I did really love how the female friendships came together in this season. Also I think Julia might be a new favourite and I kind of hope she is Hannah's replacement on Summer House. I love how she handled Luke being into her when she has a boyfriend and her friend was in to Luke. I love that she was super fun without her boyfriend being there. She seems to have befriended everyone from being Paige's friend on the way in (long time too, they have shared pictures of them modeling for Limited Too in the early 2000s), to befriending Lindsay (who I also liked this season?????). Somehow, Amanda was my least favourite girl this season, she was the one always screaming and crying which is my least favourite kind of drama. And I LOVE Amanda, I don't know, maybe Kyle is rubbing off on her. But anyways, it's all out now and there's only 6 episodes ad it was really fun!
Random Favourite 1: Mandarin Oranges
Early winter has several things going for it, fresh fallen snow, cute new boots, hot chocolate, holidays, and mandarin orange season.
Random Favourite 2: Waist Leash
The couple I'm pet sitting for right now have three dogs, they also have this waist leash thing so that you can walk two of the dogs attached to your waist and then hold the little one's leash in your hand. It's only been one day and I am already obsessed with it. I might have gotten dragged like a sled across an icy patch, but not having to juggle a bunch of leashes was amazing. I had never used one before but I am in love.
I'm not exactly sure if this is the exact one they have, but it looks like it. It's also great because I would say that the women I'm pet sitting for have a much smaller waist than I do and it fits all of us!
It also reminds me of that picture of Daniel Radcliffe. Sans the smoking of course.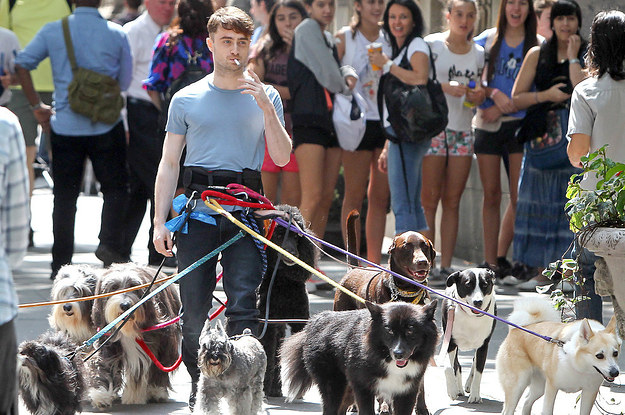 Have a great weekend!
Laura