So instead of writing my blog post last night, I spent my designated blog time working on content planning instead and have decided to switch some things up. So instead of doing Saturday Obsessions, I'm going to do a Friday Favourites post (also all through high school and uni I struggled so hard to put "u" in my Canadian spelled words after learning to spell in the USA and now it's just habit, it only took like 13 years!).
Instagram Favourite: Allie Provost @allieprovost and @pret.a.photo
Allie is a blogger and photographer who is so much fun! And a ginger! I started following her because she was being tagged in all my favourite bloggers photos as the photographer; Carly Riordan, Grace Atwood, Becca Freeman, Olivia Rink, Krystal Bick; and then I realized that she also had a blog and I started following her. What I didn't realize until writing this is that she also has a couple other photographers employed at Pret a Photo which is super cool!
Her old apartment is a big source of inspiration for me, a little pinker than I am going for, but that level of eclectic, fun and storage and she just bought an apartment in New York City and the bones are so good that I cannot wait to see what she does in it.
I also love her fashion sense, I love following gingers who where a lot of colour, it inspires me to extend beyond my summer palette of blue and white or green and white and my winter palette of blacks, browns, navy, mustard, and green. Is it weird that I wear more colour in the winter than the summer? But she's so playful with her fashion and I love it so much. Also she is a master of beautiful InstaStories.
Podcast Favourite: TGIM
Monday Girl is kind of the first Canadian version of like a women in media's networking group. It's not super applicable to my career because it is very tech/social media/business and entrepreneurship group. But some career advice is universal, and I love hearing from people that are in other industries and learning about their industries and seeing if anything is applicable. I think that's one of the reasons why I enjoyed being in a sorority so much, it took me completely outside of my academic world, there weren't a lot of people in my major (agriculture, lol) who were interested in Greek Life at all so I got to meet a ton of people with other interests and perspectives and it allows me to be more of a generalist.
Also, I really think that the world is moving past the age of getting one job and staying with that company for the rest of our working lives. So, learning about other industries I think is super important.
Movie/TV Favourite: Motel Makeover
I have been following The June Motel for years, since shortly after they finished their Prince Edward County location. PEC appeals to me because it is quite close to where my parents live, but also close to Toronto, so it can be a really easy spot for my Ottawa friends and Toronto friends to meet up. I've watched it explode over social media and have also been watching as it gets more and more popular and expensive making it harder and harder for me to be able to stay there! Last year they opened a Sauble Beach location that is even more my vibe than Prince Edward County one. Also, Sauble Beach is one of those towns that you hear about all the time when you live in Southwestern Ontario, so even though I've never been there I feel like I know about it.
So apparently while they were re-doing the Sauble Beach location they were also filming a Netflix series! I don't know if it's available outside Canada, but it's really cool to get to see the behind-the-scenes of the Instagram stories I watched last year. Although it starts before the pandemic and I'm not loving watching anything that starts before the pandemic and then goes forward in time to during the pandemic because everyone seems so innocent and unaware of the disaster that is barreling towards us and I miss that naivete.
Random Favourite 1: Icy-Hot Patches
I pulled a muscle in my back exercising on Sunday and while I am feeling significantly better than today I am still shuffling around my apartment and if I sit, lie, or stand slightly wrong or for too long I turn 90 years old in minutes. I had never used Icy-Hot Patches before, we always used BenGay or Rub A5-35 when I was growing up, but I couldn't make it to the back of the pharmacy where the back pain stuff was and the absolutely lovely shop girl brought me a couple options and only the Advanced Icy-Hot Patches seemed to be along the lines of what I was looking for and holy crap do these things work.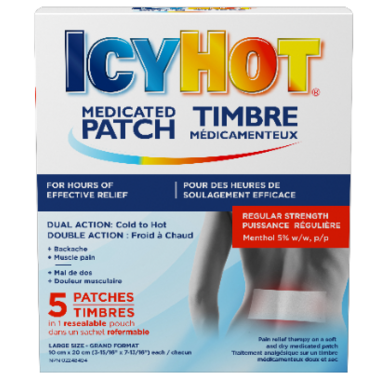 Random Favourite 2: Adult Sippy Cup
So that is not my phrase, it is fully Tinx's and she uses it to refer to a specific brand of cup, I don't have that cup but I think the phrase can apply to any cup with a lid and a straw. She has a Simply Modern one, I have a Starbucks one. Drink up and solve your dehydration problem.
Also the benefit of this going up on Fridays is that every other week you get the boost of pay day, it's also my mail pick up and buy a fancy coffee day, so you know it will be a good day! And then it's the weekend and I get to dive into my Friday night routine of bad TV or movies and pizza. OH! and on Saturday I'm going to Dryden and I'm really hoping that the Starbucks there has the fall drinks, I want a Pumpkin Cream Cold Brew real bad. And in my defense, it's only been about 15C here all week, so it feels like fall.
What a life,
Laura