So if you aren't a Sweaty Bish that title and that phrase probably don't make any sense at all, if you are a member of the SBC please say hi! Let's be friends!
So last year in May or June? I realized that the pandemic would not be over by summer and that I needed to find some form of activity to do, we were working one week on, one week off, at the clinic at that time and I would basically go from bed to couch to deck chair to bed with 1 trip to the laundromat as my sole activity on my weeks off. I had been following Aubre Winters on Instagram for a while as an influencer and I had already decided that if I ever took a trip to LA I would take one of her classes! However, like everyone else Aubs had to rework her business model and she started doing IGLive workouts, IGTVs, and those eventually evolved into Zoom workouts. This was my chance to try Sweat Sessions (what she calls her workouts) without the flight to LA (or Chicago, because that is where she lives now)!
Then we get to her first challenge last summer, this one was fun because it reconnected me with some old friends from college because their girlfriend was in my accountability group! The accountability groups are one of my favourite parts of the challenges. It takes the aspect I always struggled with from Tone It Up, where they suggest you find an accountability buddy, but I don't want to ask anyone to join me on a fitness challenge because I think that assumes that they feel a need to change their bodies and I definitely don't want to put it into anyone I love's head that I maybe think they need to change their body; because all my friends and family are beautiful and I love them however they choose to be. I did decently well at sticking to that challenge, however after and then the fall challenger were flops. Late July was when I really started to have stomach pains and then on the last day of September I had my surgery, which took me out for 4 weeks at minimum, but I still had some pain for about 8 weeks post-op.
Even after all the surgical pain was gone I was scared to workout. I did the odd workout here and there, but I now have a flap at my stomach where my mass used to be (it weighed 7lbs – I basically had a c-section) and when it bounced it, I don't know how to describe it best, it didn't hurt, it more burned; when I put pressure on it (even snug pants) or lifted something too heavy, it burned. That's not quite right either, but it's the closest word I can come up with. So I was very nervous about working out.
Since moving here I have been using my stationary bike regularly, but I really needed a kick in the pants to really start to make myself feel ready for a re-entry to society. That's when Aubre announced that she and her friend and fellow influencer Britney Vest were getting together to do a two week: Summer Confidence Challenge. Now, I feel I need to clarify Aubre a bit, I don't encourage just following any influencer's fitness advice. Aubre doesn't give ANY nutrition advice, and she is a former professional dancer and Pure Barre instructor and has taught classes at places like Bandier and Health House in LA, she is a trained and certified exercise instructor and she keeps it in her wheel house of Barre, Dance Cardio and circuit strength. If you are going to follow an Instagram fitness person's workouts I cannot recommend enough looking into their creds so that they can actually provide you with modifications and not hurt you!
The Sweaty Bishes are Aubre's community so the two week Sweaty Bish Summer Confidence challenge was two weeks of workouts and workshops. The workshops were lead by experts on skincare, certified life and confidence coaches, and yoga instructors. The best workshop was the one with Arielle Estoria, she's a poet and she had us write these stream of conscience and I am statements that just hit me differently. I was like she cracked right through to my soul and aired out wounds that I didn't know were there.
Then there were the workouts. Going into this both Aubre and Britney said, it's only two weeks, this isn't the kind of challenge that will completely change your body. Maybe it was because I was so out of shape, and I definitely do not see any changes. But I can really feel them. Each workout my shoulders are higher off the mat, my lower back is more glued to the mat, I have slightly more endurance during each of the tabata sequences (except for if they're burpees, I don't think I'll ever be able to do more than 10 seconds of burpees). I still feel like a foal trying to figure out its legs in all the dance classes and in some of the barre classes and I don't think my shoulders are capable of turning in the way required to do a reverse plank.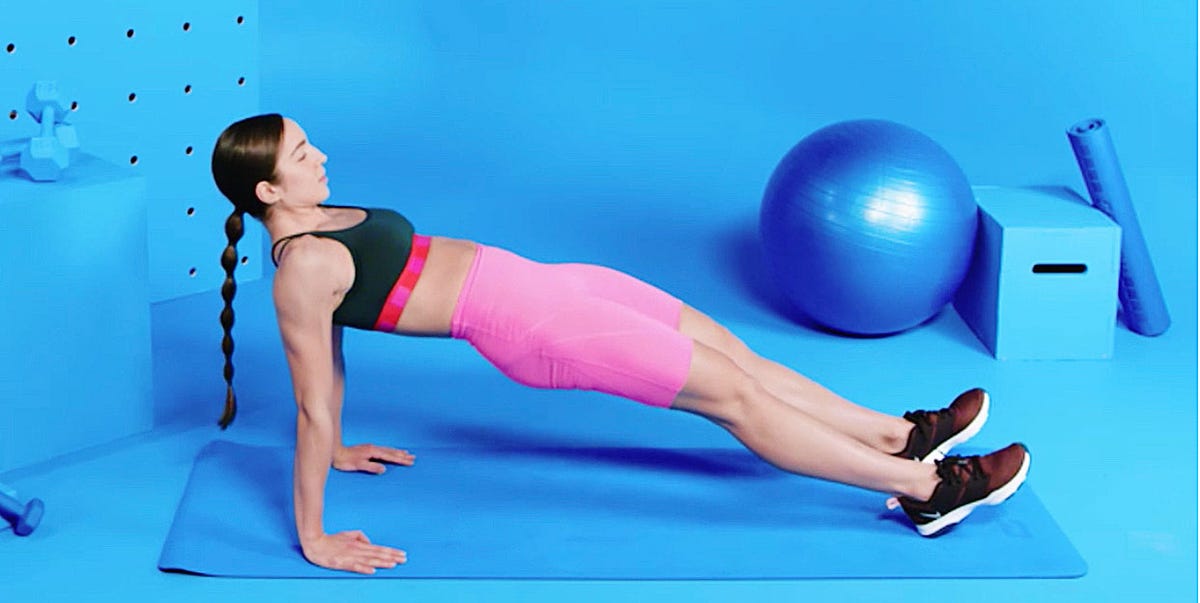 I can't believe how much of a difference a two week challenge has made, can make. I honestly think it was the perfect length. When I didn't want to workout I was like "It's two weeks, you can do anything for two weeks!". It wasn't long enough for me to get bored or tired or fed up. And I kind of love that she doesn't touch nutrition at all. I'm starting to really subscribe to the idea that you can only make one real change at once. So keeping up my normal nutrition through this, made it easier to stick to the workouts. I wasn't worried about following a meal plan or not eating carbs after 3pm or not eating before noon, and I could simply focus on getting the workouts and workshops in.
I'm continuing to do Aubre's workouts since the challenge ended on Monday and plan to renew my subscription to her website, where she has on-demand videos, recordings of her live workouts and where you can sign up for her live workouts. I can't lie, it's expensive in Canadian dollars, but it's pretty on par with what a gym membership would cost and those still aren't open yet/ I don't think there is one here?
Anyways, TL;DR, this is the best I have ever felt after any kind of fitness challenge and like any female millenial with internet access, body dysmorphia, and a history of disordered eating I have tried LOTS of them. I feel accomplished, I feel more fit, and dare I say, more confident?
Congratulations Aubre and Britney on a great challenge, you have gained a long-term customer with this one! If you want to try Sweat Sessions you can access them here or follow Aubs at @aubrewinters on Instagram and if you want to learn more about @FittyBritttty on Instagram or her blog.
Thanks Bishes!
Laura