Y'all it is hot and sticky. It's that kind of heat where you only want to eat popsicles and Free-Zees and not move. I'm also dealing with a serious flying beetle and ant situation in my apartment so if anyone has any tips, I'm going to buy some Raid when I go grocery shopping tomorrow, I may also buy another fan. Air conditioner isn't uncommon in Canada, but it is very uncommon in rentals. I don't think I've ever had a house or apartment with air conditioner. I've seen a few floor air conditioner units on Facebook Marketplace but they are expensive! Window units are cheaper, but I don't have sash windows, they're crank windows, so they open vertically instead of horizontally (if that makes sense) so I don't know how you work a window air conditioner with windows like that. Anyways, it sounds like summer is pretty short up here so I'm not certain it is worth it to spend the money on it.
Anyways, let's get into this week's obsessions. I am also obsessed with the little light leaks in my apartment, it may make my living room really hot in the evening but I love the windows and sunshine I get.
Instagram Obsession: @kristarobertso, blog Covering the Bases (she used to work for MLB!)
I have been following Krista for probably a couple years now, but something about her content recently has shifted. She seems happier, more confident, and more authentically herself. She and her husband moved out of NYC to the suburbs in Connecticut and it just seems to suit her. She also launched a needlepoint company and I love her designs so much! I haven't bought any yet, because I'm budgeting HARD at the moment but I love the Ralph's Coffee Cup canvas and her most recent Nantucket themed collection is adorable!
On stories, she does "Mundane Mondays" where she shows all the not Instagram worthy parts of being an influencer and I think it is part of the trend of influencers showing more that they are normal people and that everything isn't always so aspirational, which I like so much more than the super curated content that was so popular pre-COVID.
TV Obsession: Dawson's Creek
I never watched this as a kid, I don't think my parents would have let me and it was also on TV from when I was 5 years old to 10 so I wasn't exactly the target audience. I'm really enjoying watching it, and of the shows from the 90s it hasn't aged the worst, but it still hasn't aged spectacularly either. Also, it makes me laugh because my mom was SO scandalized by Gossip Girl, saying that there wasn't sex on TV like that before that show. Sex is basically the only theme of Dawson's Creek, they are all obsessed with talking about it and this was like 15 years before Gossip Girl. But I'm enjoying watching it! Also I 100% thought Joey was the main character, not Dawson, even though it's called Dawson's Creek so idk where that came from, but that was a surprise for me.
I also laugh at how much what is trendy now is EXACTLY what people are wearing on this show. I'm never getting rid of clothes again lol.
Podcast Obsession: CBC's Telling Our Twisted Histories
I imagine that this has been in the work for ages, but it's release was incredibly timely. Telling Our Twisted Histories does a deep dive into a word that represents a theme in Canada's relations with Indigenous peoples, the episode I listened to was called Reserve and it interviews Indigenous people and Elders about their relationship with the land their reserve and how the creation of reserves has changed everything.
This is kind of another Instagram obsession because that's how I found her, but I am currently doing Aubre Winters and Brittany Vest's Confident Bish challenge, it's like a combination fitness and self-care challenge. Aubre is a trainer and she has an excellent online platform now (I started doing her Instagram workouts last year in quarantine, I followed her before but she only did IRL classes in LA and then NYC for a bit) for Sweat Sessions. There are dance cardio, strength, and barre classes that are such a good workout. I never work my core the way I do doing a Sweat Session! The challenge also includes live guest sessions with yoga instructors, confidence coaches, and you're put into accountability group. In the challenge she did last year, my accountability group actually reconnected me with an old friend from college because his girlfriend was randomly assigned to the same accountability group as me – it was so cool!
I also worked out 4 days in a row this week, that hasn't happened since probably 2019. It felt really good.
I made a variation of this garlic and rosemary pork chops recipe this week and they were really good! I didn't really follow the measurements but the idea of it. But it was even better for lunch the next couple days, I heated it up and put it in a wrap with chive cream cheese, siracha mayo, lettuce, and tomatoes and it was SOOO good. Like one of the best lunches I have made in ages.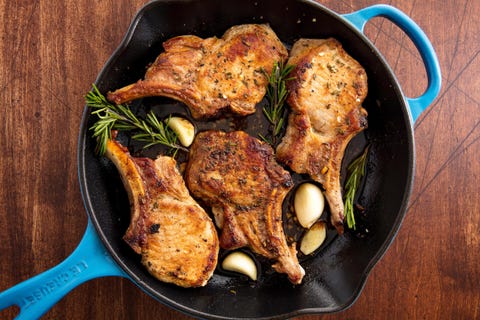 Have a great weekend!!
Laura